It's been a very long time since I wrote a blog post but one of my New Year resolutions was to write blogs again so as it's June, I thought I'd better get started.
What better way to start than with a little post about my recent, Mediterranean cruise? I only booked this holiday on the 17th of May and I left Gatwick on the 20th, so it was a bit of a mad rush. This is the ship, Oceana, in a not-so-sunny, Venice.
She's in the P&O Cruises, fleet and to be quite honest, could do with a little TLC but my balcony cabin was perfect and I had a fabulous time, so they won't be getting any complaints from me.
I didn't even mind the occasional bucket in the hall, collecting drips from leaking pipes. They were bright orange buckets and there was something cheerful-looking about them. Can a bucket look cheerful?
After a few Bellini's in one of the several bars, yes!
The staff were abundant, friendly and helpful. I made some lovely new friends amongst my fellow passengers. Even the weather came up trumps after a wet first and second day. Not that weather bothers me. I can have fun whatever the universe delivers. Here's a photo taken from the vaporetto as we approached St. Mark's Square... in the rain.
Venice is beautiful and much smaller than you may think. This is where I'd like to stay (if I win a £million on my premium bonds.) The Danieli. I nipped inside and was kindly allowed to take a few photos.
Leaving Venice, we sailed overnight to Kotor in Montenegro. I'm an early riser and I can't tell you how beautiful it was to sail up the Gulf of Kotor between mountainous hills, at 5.30 a.m. The scenery was similar to the Norwegian fjords in many ways.
To go ashore, a tender was required. That was entertaining to say the least. The sea may appear calm but the captain suspended operations more than once. I wondered if some people would have to swim back once they'd made it onto the pink-cobbled streets of this Byzantine and Venetian inspired town, with its medieval city wall. Thankfully, the tender did its job.
From here we sailed to Corfu, which involved spending a day at sea. The pools and hot tubs were welcome retreats from the heat of the sun and yet they weren't overcrowded. I treated myself to a fire and ice manicure and pedicure in the Oasis spa, which involved my hands and feet being bathed in hot then cold water and gels, followed by soothing massages. Mahlaisi, a lovely South African girl had hands as soft as her voice and she told me that she wanted to train to become a reflexologist once her 'season' had ended. Most of the staff sign up for 6-9 month contracts. I also had a full body massage and Lana, my Transylvanian masseuse did things to my muscles that made them want to run a mile (to get away from the pummelling) but boy did I feel good when she'd finished. My legs felt as if they could now run that mile although I didn't put them to the test. Instead I headed for the bar, a refreshing Singapore Sling and to join some new-found friends for the Motown Music quiz.
There's always plenty going on and the ship's newsletter, Horizon, which is left at your cabin door each night, lists all the next day's activities, highlights and entertainment. Take a look at the picture I've circled above. On the BA flight to Venice to meet the ship, I was seated with a rather dishy guy (one empty seat between us) and I thought, 'Wow. He's a perfect hero for one of my books', so I made a few quick notes about his looks. He spent most of the flight sleeping or texting, as did I, (well I did get up at 2 a.m. to get to Gatwick by 4 a.m. so I was tired!) but we did exchange a few words. Imagine my surprise when I saw him on the ship and discovered he was the singer, Glenn Macnamara. So that's going to form part of the plot in an upcoming book, naturally!
The food was good - and plentiful; you could eat at any of the 5 restaurants for free but two had a small cover charge for dinner if you wanted to switch from the restaurant allocated to you. Needless to say, I tried them all for breakfast and lunch, but on the first night at dinner, I was seated with some lovely girls - Jane, Yvonne, Tina and Winnie - yes, I'm talking about you! We all got on so well that we dined in our 'set' restaurant each night... The Adriatic. Above are two of the menus. The Cruises Favourites menu remained the same each night, with the exception of the speciality but the other menu changed and there was a reasonable choice, all-in-all. Wine was about the same price as it is in a restaurant in Hastings and cocktails were actually cheaper than they are in my local cocktail bar!
Speaking of cocktails, naturally we got the invitation to the Captain's Gala Party. Hmm. Not really my thing but lots of people loved dressing up and having their photos taken with him. I chatted to some of the staff who told me that they hate these things. The amount of preparation and clearing up afterwards is staggering and all so that people can say they've had a drink with a guy who should be making sure there aren't any icebergs in our path. Okay, so there aren't any icebergs in the Med., but I just don't get what's so 'special' about meeting a captain of a ship. It's just a mode of transport after all. All to our own though and if that's what floats your boat that's great. I must admit, the two glasses of prosecco I had were rather nice.
From Corfu, we sailed to Rome and spent a second day at sea. This was a strange experience because, having arrived in Venice, I put my watch forward by an hour. On the way to Corfu we were told to put our watches forward another hour and when we left Corfu, we had to put them back one hour. By this time, I had already forgotten which day of the week it was and I was now having trouble remembering what the time was in the UK, to phone and check that my beloved cat, Phoebe hadn't killed my friend Phyllis who was looking after her. Luckily for me, Phyll didn't mind being woken up shortly after midnight! And Phoebe, apparently, was one contented cat after all the treats and cuddles she'd been given.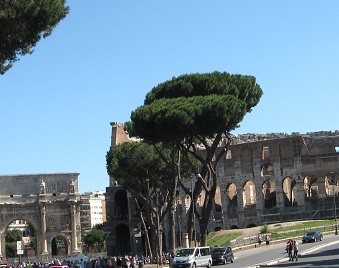 When in Rome... do as you like. Yeah okay, that's not the saying but have you been to Rome? There is something amazing round every corner. The only disappointment: the Trevi fountain was being restored and coin-throwing was strictly forbidden. So now I've got to go back so that I can throw a coin in the fountain to make sure that... I'll be back! Actually, I'll go back to Rome, coin or no coin. The Colosseum, the Palatine Hill, Circus Maximus, Piazza Venezia, the Spanish Steps, the Vatican... the list of attractions is endless. Although watch out for Italian drivers or you may not live long enough to see it all. And yes, Italian ice cream is divine even in Rome. (I was told the pizza wasn't.) In 30+ degree temperatures under a cloudless, cerulean blue sky, ice cream and chilled white wine is better than pizza anyway.
Rome was followed by Monaco. Monaco (and Monte Carlo, the more famous district within Monaco) is tiny, noisy and frankly...cramped, as you can see from the photo above which is taken from the road overlooking it. You can see our cruise ship, Oceana in the harbour anchored near some superyachts in the marina. The Grand Prix had taken place just days before our arrival and there were still cars, transporter trucks and barricades cluttering up the streets. I was glad to get into the hills beyond this home of the mega-rich. Apparently a windowless studio (known to most people as a box) costs 500,000 euros. Yep, half a million. Are they mad? They soon will be, living in a windowless studio. I don't suppose they live there though. It's simply one of the requirements to become a Monégasque - a citizen of Monaco: you have to own a property there.
After driving through the hills (see picture above) and being shown where Grace Kelly died (thanks for that! No, that's not in the photo) we headed to the ancient hilltop village of Eze and then down to the coast to visit Menton; a place I've wanted to go to for a very long time. It's former grandeur is still evident but fading fast but it remains a lovely, relaxing resort, and a cooling glass of chilled white wine is only just over 2 euros. I stocked up on olive oil. They make it here and there are varieties I've never tried. I bought one with madarin and one with fig and one with lemon and basil and... well, I bought a lot.
Our final stop was Genoa; birthplace of Christopher Columbus... and I forgot to take any photos! We left at 2 p.m. and headed back to a cold and wet, UK.
So, would I go on another cruise? To be honest, I doubt it. I did have a wonderful time and as I said, I met some lovely people. What's more, I got an idea for a book out of it so that's rather good. But I rarely went on package holidays before all my ops and now that I know I'm okay to travel again, I think I'll go back to doing my own thing.
The ports we visited were excellent but I found I was constantly checking my watch. The last thing you'd want is to lose track of time and find the ship has sailed without you, or the other travellers on the tour bus on one of the many trips offered, are sitting, waiting for you. I'm told both have happened in the past; one more so than the other.
I think it's a great holiday for families with young children and for older people or those who want to get a tiny taste of a place by spending just a few hours there. Personally I like to get to know the locals, try the food from backstreet cafes, venture into unknown places and see as much as I possibly can. My backpacking days may be long-gone but I still like my holidays to be an adventure; even if that does mean getting lost, or hoping that a pack of wild dogs won't attack me (see my 'In Search of Paradise' blog post.)
Then again, getting up and finding a long length of the carpet of the corridor on my deck of the cruise ship, was sodden and being replaced before breakfast, was interesting, and one or two of the passengers... well, need I say more? So perhaps I should 'never say never'.
Happy holidays to you - whatever you may be doing.
2015 © Emily Harvale